Moving is always stressful. But when you are making a military move from Texas to Maryland, with a month in between, "stressful" takes on a new meaning. You may be asking, wasn't that a while ago? Well yes, but when you are in your new place for three weeks without wifi, any phone data, and no camera, it makes it a lot harder to blog. By hard I mean impossible. So this is my first official blog post from Silver Spring (Wheaton), MD!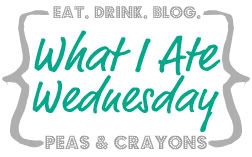 With that I must admit I haven't been creating a lot of "new" recipes lately but rather sticking with the favorites while I still get the hang of my new kitchen and new grocery options. Yes, I do have two Trader Joe's in reasonable driving distance along with a Giant and the monthly Commissary trip I do have options. And one of those options will be never going to a Safeway despite it being the closest option to me. It's horribly expensive with a very limited offering.
So near the end of the month, I'm taking stock of what's left in my fridge and how to make new summery meals. One of those meals was what I'm calling Lentil "Cassoulet." There is no other way for me to describe this dish. And it'll take a while to finish this baby let me tell you!
The classic cassoulet is a wonderful French creation of white beans, tomatoes, bacon, pork, and topped with breadcrumbs, normally served with duck confit. I wanted to take the essence of this classic dish while using up what was in my pantry. I had a couple potatoes that were about to go bad as well as some leftover green lentils. I thought, why not replace lentils for the traditional legume? I threw in the potatoes, some mushrooms, and fresh herbs. Voila, lentil Cassoulet was born.
I figured it would go perfectly with another French classic-chicken in a pot. The incredibly moist whole chicken, steamed in a Dutch oven. All this meal needed was some homemade bread (leftover and thawed,) and the reduced drippings from the chicken. I'm getting hungry just writing this….
I originally wished this dish was a little "wetter" in order to sop with the bread, but it ended up being perfect the way it was. This is also a great dish to use up your own unique leftovers. Add leftover baked chicken, bacon, leeks, roasted potatoes, zucchini, eggplant, wilting fresh tomatoes with the canned. Lentils are so filling and healthy so this makes a perfect vegetarian or vegan dish (omit butter) with bread and a salad. For gluten free, use GF breadcrumbs. Either way, throw it in a casserole dish and enjoy the benefits!
1 1/2 cup cooked green lentils, (make 1/2 cup dried lentils when preparing)
1 can (14.5oz.) diced tomatoes, pulsed for a few seconds in food processor
3 medium-small Yukon gold potatoes, chopped into 1/2 inch pieces
5-6 small mushrooms, quartered
Topping:
2 pieces nice bread, pulsed in a food processor until small bread crumbs
1/4 cup freshly grated Parmesan
Freshly chopped basil, 3-4 leaves, cut into thin strips
Preheat oven to 350 degrees.
Put potatoes in a microwave-safe bowl, add water, and cover with plastic wrap and microwave for 5 minutes until potatoes are soften. Set aside.
While oven is preheating, sprinkle breadcrumbs on a baking sheet, drizzle with olive oil and sprinkle with salt. Place in oven and cook for about 5 minutes until crispy and golden brown. Transfer to a bowl and stir in Parmesan cheese. Set aside.
In a large frying pan, heat oil over medium heat and cook onions until soft and translucent. Add garlic and sauté for about 1 minute, and then add mushrooms and sauté until soften and starting to brown. Add a splash of the red wine and stir until mushrooms have absorbed the liquid. Season with a pinch of salt and pepper.
Add butter, carrots and celery to the pan and cook for 3 more minutes. Add tomatoes, wine, thyme, oregano and salt and pepper to taste. Cook for 3-5 minutes until flavors are melded. Stir in potatoes and ladle mixture into an large, oiled baking dish or ramekin quiche dish. Make sure the dish isn't too full but close to the top.
Bake dish in the oven for 30-35 minutes until hot and potatoes are cooked through. Take the dish out of the oven.
Sprinkle breadcrumbs over the top of the dish and put back into oven for 10 minutes until breadcrumbs are golden brown. (If not turning brown, turn on the broiler to low and cook for 2 minutes.) Take out the oven and top with fresh basil.
Serve while warm with bread and roast chicken, or a crisp salad.
To reheat leftovers, turn oven to 400 degrees until inside is warmed and topping gets crispy again. Delicious topped with a fried egg on top!