I'll be the first to admit that books often inspire my next culinary pursuit.

A good book can transport to the coasts of Spain or the rivers of India. Currently two books have made me yearn for experiences not so easy to come by in West Texas.
Peter Mayle, the prolific English ex-pat who lives and writes about Provence once again makes me want to return to France. In The Vintage Caper, set in Marseille, Rose wine is practically a requirement of conversation. I must admit I tend to stereotype the pink-hued wine as here in the States, "White Zin" and Arbor Mist have crowded the market making the readily available options on shelves and at restaurants to be one step above fruit juice. But despite the stereotype, I am on the hunt for a light, crisp, hardly sweet rose. I think I found one for Easter supper thanks to the local wine boutique down the street. They let you sample if you're buying…
The second book is A Year in the World, by Frances Mayes, famous for her previous book, Under the Tuscan Sun. In this travel-autobiography, Mayes and her husband travel the world for a year in order to have new experiences and fulfill life long travel goals. She first takes us to Spain, then to Portugal. I'm quite familiar with Spanish cuisine and the tapas tradition. But like most Americans, Portuguese food is an unknown to my eating, and cooking experience.
I've always wanted to go to Portugal, known for its seafood and vibrant ingredients and bakeries. For some reason it is the one European cuisine that is not prolific in America. I've never been to a Portuguese restaurant, or known of one. In Mayes' book, you can almost taste the fresh clams, the paprika, and the lemon. After reading this part of the book I long to travel to Lisbon and the neighboring towns.
I've always heard the bread, pao, is incredible. I cannot wait to taste it one day.

Inspire as I was, I decided to take to the book quite literally and use as many of the ingredients as possible to make a Portuguese chickpea stew, as described in the book. Mayes talks about chickpeas, squash, and above all fresh coriander (cilantro,) being common and important ingredients in the cuisine. Fresh bread of course goes without saying. I love how hearty this dish is with just enough broth to soak up with bread, but not too much making this a soup. And what a lovely hued broth it is.
After looking over some recipes, I made my own version. I encourage you to mix and match depending on what you have around the house. I only included sausage in my stew, but beef, pork, and especially chorizo are all worthy ingredients. Make sure to use a good quality smoked paprika. This is a great dish to use up any vegetables you may have lying around such as carrots, sweet potatoes, squash, tomatoes, spinach, or any other type of hearty greens. It's even better the next for leftovers so bring on the veggies!
This is easily doubled or then some for a large crowd. The simplest one-pot version relies on a Dutch oven that you can sauté the vegetables in, and then transfer to the oven. You can even serve it tableside if you have a pretty one! If you don't have a Dutch oven simply sauté vegetables in a pan then transfer to a baking dish. Or better yet, use a stovetop safe baking dish.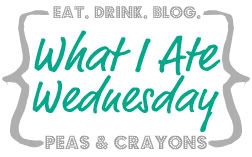 I've been happily eating this all week so it's my WIAW. And considering I sprained my ankle yesterday at work, I'm happy to have something to eat!
Makes 5-6 dinner sized portions
1 lb. of your favorite sausage (smoked or chorizo goes well, even turkey sausage), sliced 1-inch thickness
3 cups loosely packed kale, washed, stemmed, and torn into medium size pieces
1 can (14.5oz.) diced tomatoes and liquid
2 cups chicken or vegetable broth
2 cups prepared chickpeas or 1(14.5 oz.) can
2 cups sweet potatoes or butternut squash, cubed into 1-inch pieces
2 celery stalks, finely chopped
1 large yellow onion, chopped
2-3 cloves garlic, minced
1 tbsp. smoked sweet paprika
1 pinch red pepper flakes
1 pinch cayenne pepper or ¼ tsp. chili powder
1 tsp. Worcestershire sauce
black pepper and salt to taste
½-3/4 cup roughly chopped fresh cilantro (fresh coriander)
Variations: Try spinach in place of the kale (stirring in near the end of cooking,) add a pound or two of cubed Yukon gold potatoes for a larger crowd. 6oz. of Pork, lamb, or beef shoulder is also works. You could even stir in peeled shrimp at the last minute of cooking. If you aren't a huge tomato fan, this would also be just as good if you supplement two cups additional broth for the tomatoes and add a few more carrots and celery.
Of course, this is very easy to make vegan simply by swapping the butter for olive oil, as well omitting the meat, Worcestershire, and using vegetable broth.
For gluten-free: Omit the bread and serve over quinoa or rice.
Preheat your oven to 400 degrees Fahrenheit.
In a large Dutch oven, begin to brown onions over medium heat with a drizzle of olive oil. Once onions are soft and translucent, add butter, garlic, carrots, and celery. Cook for additional minute. Sprinkle with salt and a generous amount of black pepper. Stir the spices, including the bay leaves and Worcestershire.
Turn heat off and toss in sweet potatoes (or squash), kale, chickpeas, and broth. Pour tomatoes on top of the mixture and arrange sausage slices on top.
Cover with lid or aluminum foil and bake for 1 hour. Remove lid and continue to bake for 15 minutes until sausage looks browned and crispy. Fish out bay leaves and discard.
Either serve stew in the Dutch oven tableside or dish portions into shallow bowls and top with lots of cilantro. Serve with bread.
Have you ever been inspired by a book to try a cuisine? Have you tried Portuguese food?